The company also conducted a thorough study to identify the bike's contact points when on its side. This has led to an engine bar design that offers a wider contact area between the bars and the ground.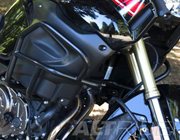 The crash bars are constructed and mounted so that both side panels have clearance with the bars in place. The petrol tank cover can easily be removed in order to get to the air filter. The right hand side is just as easy as the glove box can be used and the battery can be reached for maintenance. With the left side, the gap is smaller. They did it this way because it is less likely the left side would need to be accessed.
They are constructed from one inch stainless steel so they'll never rust, and the joints are hand welded which gives them a neater more controlled finish.  Weighing in at just over 5.2kg (11.5lbs) they are not going to add a huge amount to the overall 261 kg of your bike.
For more information on Altrider visit their site. 
The UK Distributor for the bars is www.nippynormans.com and the RRP is £288.00
We do love to farkle our Adventure Bikes, and one that looks good and protects our pride and joy is a worthy investment.