There are few better places in the world to ride a motorcycle than the Alps. The vast mountain range features a network of sublime mountain passes and steep-sided valleys that provide some of the best riding imaginable for an adventure biker. Don't take my word for it though. This video from ABR reader and contributor Josh Hudson goes some way to capturing the sheer beauty of riding those passes.
In fact, his video is so good that we've made it the first winner of ABR's inaugural Video of the Month Competition. So, if you're a budding videographer, a wannabe Claudia von Planta, or just a head-cam hero, it's time to check out last month's winner…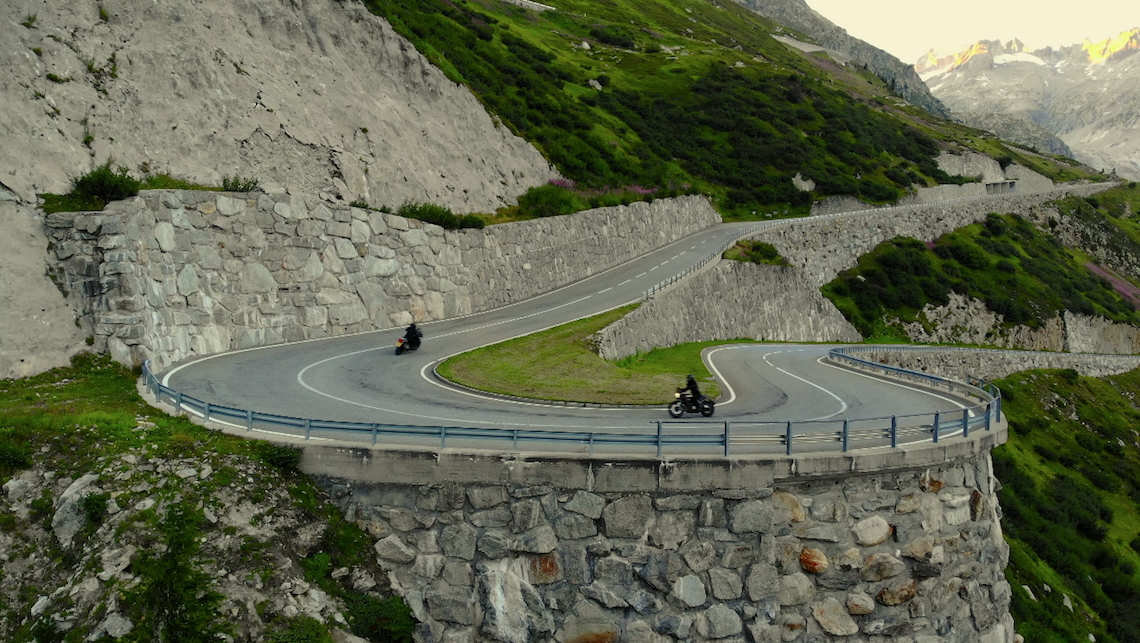 Riding five Swiss Passes in five days
Josh's video starts with him and his girlfriend rolling off the channel tunnel as they arrive in France. Wasting no time, they set off in the direction of the Swiss Alps in search of those famed mountain passes. The pair are riding on a Triumph Tiger Explorer and a Ducati Scrambler, both kitted out with cameras to capture the action.
Soon enough they reach the vast glaciers and snow-capped peaks of the Alps. The views are a sideshow though, as between these towering mountains lie the main event, a collection of stunning ribbons of tarmac just begging to be ridden.
The video shows the pair tackle some of Switzerland's best, starting off on 'The Carousel', made up of three iconic passes, Grimsel, Furka, and Susten, before heading over to the Nufenen Pass and the Gottard Pass. Finally, the drone captures the remarkable sights from the Thrift Bridge.
Using a drone alongside the action cameras, Josh manages to capture unique angles that you wouldn't typically see from the saddle (unless your ride goes horribly wrong), and we get to watch riders tackle the tight hairpins from a number of lofty viewpoints.
It's a video that has me itching to go and explore the Alps on my own bike, and is a worthy winner of August's Video of the Month title. Check out the video in full below:
We want your videos
Have you got stunning video footage from your last bike tour sitting idle on your phone? How about some GoPro action sequences of you and your mates riding your local green lanes? If the answer is yes, you've come to the right place.
Send us your adventure biking footage and we'll enter you into the Adventure Bike Rider Video of the Month competition. The competition runs until the last day of each month, when the winning entry will be chosen. The winning video will be featured on our website and social media pages, and the creator will win a year's access to the ABR Digital Library (worth £32.99).
Full terms and conditions, prizes, and how to enter, are available HERE. Good luck!