I know, I know. All the bikers, in all the land, have asked Santa very nicely for one of these (below), to be wrapped and patiently waiting for them under the tree on Christmas morning. But hey, Santa's not made of money. So, what else can us good biker boys and good biker girls put on our Christmas lists?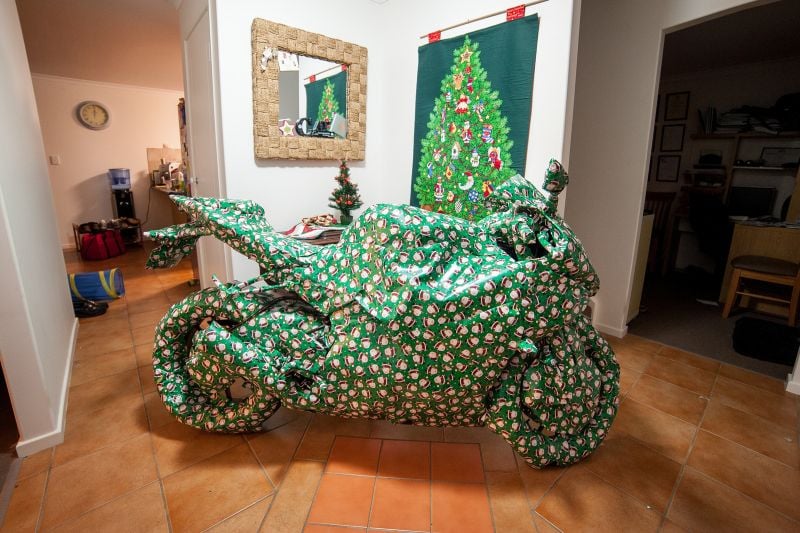 Photo: Rebrn
Well, ladies and gentlemen, the predicament is over. Enter the brand new Adventure Bike Rider t-shirts…
Yep, no adventurous biker's stocking will be complete without a snazzy ABR t-shirt this year.
After the huge sell-out success of our brand new 'Born to Explore' t-shirt design at Motorcycle Live the other week, we are very excited to announce that we've teamed up with the folks at Teespring, to bring you an awesome new range of colours and sizes to choose from, just in time for Christmas.
The T-shirts are unisex, so can be thoroughly enjoyed by all. In fact, if you came over to see us at our Motorcycle Live stand the other week, then you would have seen our male and female team sporting their very own 'Born to Explore' t-shirts in style. With a whole array of attractive colours to choose from, you'll be sure to find the right one to suit you (or the biker in your life who is lucky enough to be on the receiving end of this outrageously amazing gift).
Planning to let yourself loose (mercilessly) on all of the turkey, pigs in blankets, mince pies and beers that you can get your hands on over the festive season? Yep, me too. Not to worry, here at ABR we've got your back. Our new size range starts from a size S and goes up to a 5XL. So, there's plenty of room for all those extra helpings of Christmas pudding.
But the good news doesn't stop there. Oh no. With the help of Teespring's innovative approach to distributing apparel across the globe, we'll be ramping our merchandise up a gear as we head into 2018, with exciting designs available in the UK, EU and the US at local delivery prices.
So, what are you waiting for? Head over to the Teespring shop and purchase your awesome ABR 'Born to Explore' t-shirt before they all run out!