First to take to the stage was Nathan 'The Postie' Millward who shared the extraordinary experiences he encountered on his epic ride from Oz to the UK aboard an ex-postal bike. Nathan's passion, enthusiasm and humour gripped the audience who were mesmerised as he recounted the highs, the lows, the fun and the hardships he experienced on his inspiring journey which took him from Australia through Indonesia, Malaysia, Indonesia, Pakistan, Kazakhstan before returning to the UK on an his beloved ex-postal bike, Dorothy.
After a brief interlude, veteran biker and Motorcycle Action Group (MAG) campaign manager Paddy Tyson took to the stage to recount his own tales of motorbike adventure through the Americas aboard his temperamental Aprilia Pegaso, Peggy. An adventure biker for over 35 years, Paddy's on-the-road experiences and tall two-wheeled encounters are extreme and varied to say the least, from dodging bullets to pot holes the size of meteor craters, the audience was captivated by his wit and Irish charm.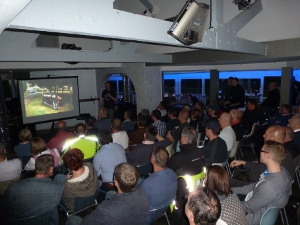 As the night came to an end, the delighted audience began to make their way home, each taking away goodie bag as a memento of what was a thoroughly inspiring and enjoyable evening. Many booked their tickets for the next ABR Night to be held on Tuesday 12 June, also at the Riverbank Cafe, eager not to miss out on what promises to be an equally fascinating, inspiring and thoroughly enjoyable evening.
Alun Davies, publisher of ABR Magazine said: "Never did we imagine that we would have such phenomenal success and such diverse appeal on the first of our 3 ABR Nights. It shows that people are looking for adventure and an escape from the rat race and the general pressures of everyday life.  ABR Nights gave them that escape and I urge everyone to get off that hamster's wheel for a night and join us for the next one. You will be amazed and inspired!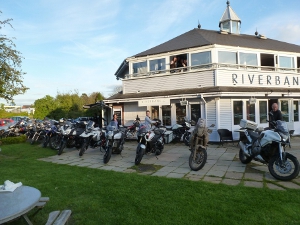 Scheduled speakers for the second ABR Night are motorcycle travel author Sam Manicom who'll be sharing his pearls of overlanding wisdom gleaned on a 12-month bike trip which turned into an eight-year adventure, and self-confessed 'Leprechaun' Norman Magowan will join us for a chat about his 35,500-mile ride through the Americas. The third ABR Night will be held Wednesday 11 July 2012, at the same location and more guest speakers will be confirmed so watch this space!
Drinks and refreshments will be available. Family and friends are welcome.
Tickets are £8 in advance and £10 on the door.  For tickets, please call 01789 450 000