As we love to see, the ABR forum has been buzzing with discussions this week, with new threads being added daily. Amongst posts about the unexpected things you come across while riding, new toys or how to insult your mate without him knowing (yep), there's a conversation going down about the smallest bike you'd use for a multi-day Euro trip.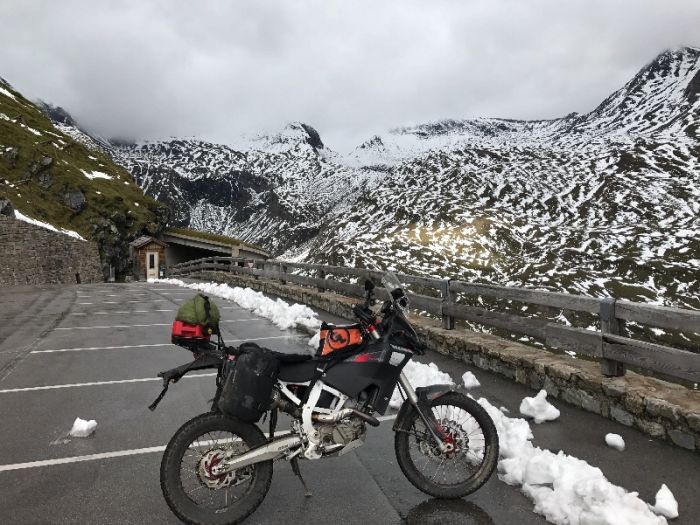 SteveW asks the question as he has just ridden back from Bulgaria on his CCM GP 450s. On his way home on the Zeebrugge – Hull ferry on Saturday, apart from a couple of scooters, all the surrounding bikes were of 1000cc and above.
SteveW continues to say that his 450cc would be as small as he'd like to go. During his trip, did he miss a bigger bike? The answer was yes, sometimes! Astride a bigger bike, he feels he would have struggled solo on some of the more rugged and challenging off-road trails. However, there were times when travelling on motorways where he missed being on a bigger bike.
Share your thoughts with Steve by heading over to the forum. Here's what a few users had to say on the subject…
Wonkyconk agrees that a smaller bike is going to be easier to ride on the off-road trails, but he also thinks a big bike can do 90% of what a smaller bike can do, as long as the rider is confident and has good riding abilities.
Bowber says he doesn't think he'd quite go down to a 125, but maybe a (good) 250 would be the smallest. He currently rides a KTM 1050, he says this is okay but to be honest, he'd be happier with a smaller bike.
Minkyhead says he wouldn't swap his Honda CRF300 or CCM450 for a KTM 1190. "I haven't got the talent to ride it where I want to ride, " he explains. "A 1190 with k60s on is my best shortcut to a helicopter ride." He also goes on to say that a big bike would be a total liability for him as he believes he would get stuck, be frightened and potentially fall… a lot.
Godspeed Believes it all depends on what mileage you intend to cover. He's done two 1,000-mile trips in Europe on his Honda XR125L and has found it to be ideal. "I took it on a beach and got stuck in the sand, no worries, I just I just took the luggage off and hauled it out by hand," he says. "Would I take anything bigger? Nope."
You can read more replies and share your thoughts in this thread by heading over to the ABR forum. If you're not already a member, why not sign up today? With so many knowledgeable bikers on hand, it's a great place to gain advice on touring, bikes, gear or chat about, well, anything, in the pub section!
And just in case you were wondering, this is how you insult your mate without him knowing as Herman points out…