SHARE ON:
Set out for my next point and has I was just leaving Ardagh the  Garda (Irish Police) pulled me over. Switching off the bike and wondering what the hell I'd done, a lone cop gets out and comes over to me smiling. "Just seen you taking photos, Doing the photo rally ar ye?". With a  nod for the head to confirm I remove my helmet. He was doing the rally himself so if was "How much have you done so far?" Where are you headed now? Having answered  It turns out he rides a 1150GS .Said he would be doing the northern points later in the year. So with a swap of name and phone numbers I told him to give me a bell when he gets north.  Back on the road and another hour takes me to my next photo shoot.
An old windmill near Four Roads (yes that is the name of a place) in County Roscommon.
Was going to make this a stop and have a brew up, but it was beside a farm and the field beside it had a large amount of fresh cow dung  stored there.  Finished getting a few shots and a van stops "you all right there" "Ye fine " I reply, the next I know me's parked behind me. The tail of the van blocking half the road, out me gets and  tell me he has an old FJ1200 himself  and what a fine look'in Triumph that is.
It turns out he lives a hundred yards up the road and his misses has been see'n all the bikes stopping  and I explained to him.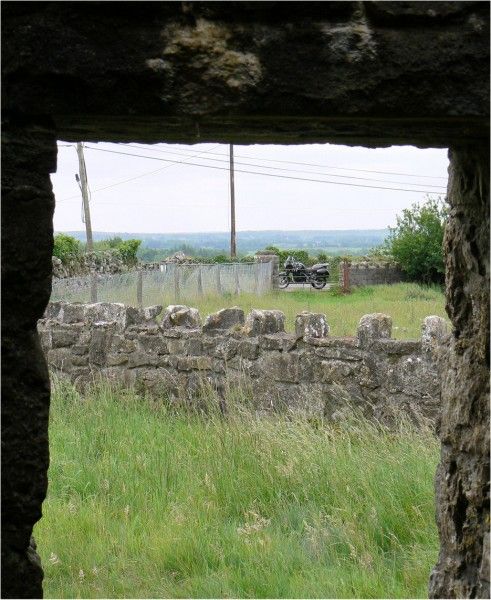 Show him my next stop. " Its not far to that , half an hour may-be no more than 15 miles" So saying good bye I set off knowing a brew was not far away. I think it must be Irish miles because an hour and a half later I've covered about 56 miles and can't find the bloody place. I'm now in county Mayo looking for the old lighthouse on Lough Corrib. The sat nav points a right turn but the road is a dead end, not even water to be seen never mind a lighthouse.  Back up the road and I see workmen at a house. Park the bike and take the hat off. A car pulls up " You looking for the lighthouse" a woman calls. "Its down that lane your parked beside and take no notice off the sign, it's a public road" a wave and away she goes .  Looking at the sign telling all this is a private road, I start up and head down it. Some of the houses built down here are beautiful. So after about a quarter mile the lough shore appears.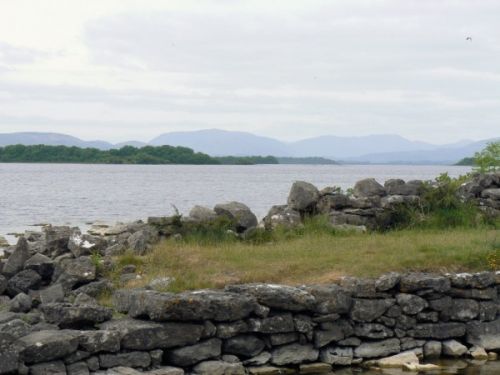 I park the bike and set up my stove and get a brew going, take my photo and sit and listen. Bar a few birds and the water gently lapping on the rocks  with the pinging  sound  from my exhaust cooling . Silence. I sat and had my tea in peace with just my thoughts , I understood  why they had put a sign up at the lane entrance.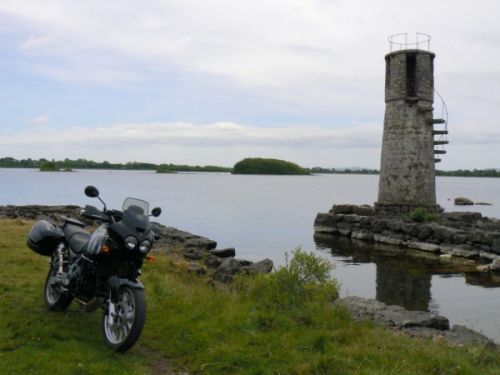 Packed up I sit down for another few minutes and soak in the silence.   Its time to head on to my next point, has I start the bike I feel like I've just spoiled  the beauty of this place a little.
SHARE ON: