Motorcycle waterproofs are the most effective way of protecting you from bad weather, not only keeping you dry but also keeping you warm in the damp winter months. They are also relatively inexpensive compared to a lot of riding gear, offering a cheap and convenient way to stay comfortable in the saddle.
But with a few different styles on the market, which one is right for you? To help you choose, we've teamed up with online retailer XLmoto to highlight what to look out for when it comes to buying waterproofs.

Rain suit or two piece?
A rain suit looks a little like a waterproof onesie. It's got a big zip at the front to climb into and you'll find yourself sat snug in a waterproof cocoon. Alternatively, a two-piece waterproof consists of a jacket and trousers you put on separately.
Which you go for is much to do with personal preference. Some people prefer a rain suit because there is no 'gap' around your waist for the rain to find its way through. However, a well-made two-piece waterproof shouldn't let water in. Rain suits can be bulky to store on your bike and you don't have the option of wearing the jacket or trousers individually.
Fit
As is true with any item of motorcycle clothing, fit is important when it comes to waterproofs. They have a reputation of not being the most stylish of items, having a tendency to make you resemble the Michelin Man if you're not careful. Ill-fitting waterproofs that flap and billow in the wind as you travel at speed can also be a distraction, taking your mind off the road.
When trying new gear on, be sure to sit down in the riding position so you know the material fits nicely when your arms are reaching for the handlebars. And keep in mind you'll likely be wearing your waterproofs over your motorcycle jacket and trousers, so ensure they are big enough to wear over your existing gear.
Waist, arm, cuff and ankle adjustors will help fit waterproof gear to your body shape and aid in keeping water out, ensuring it performs more effectively.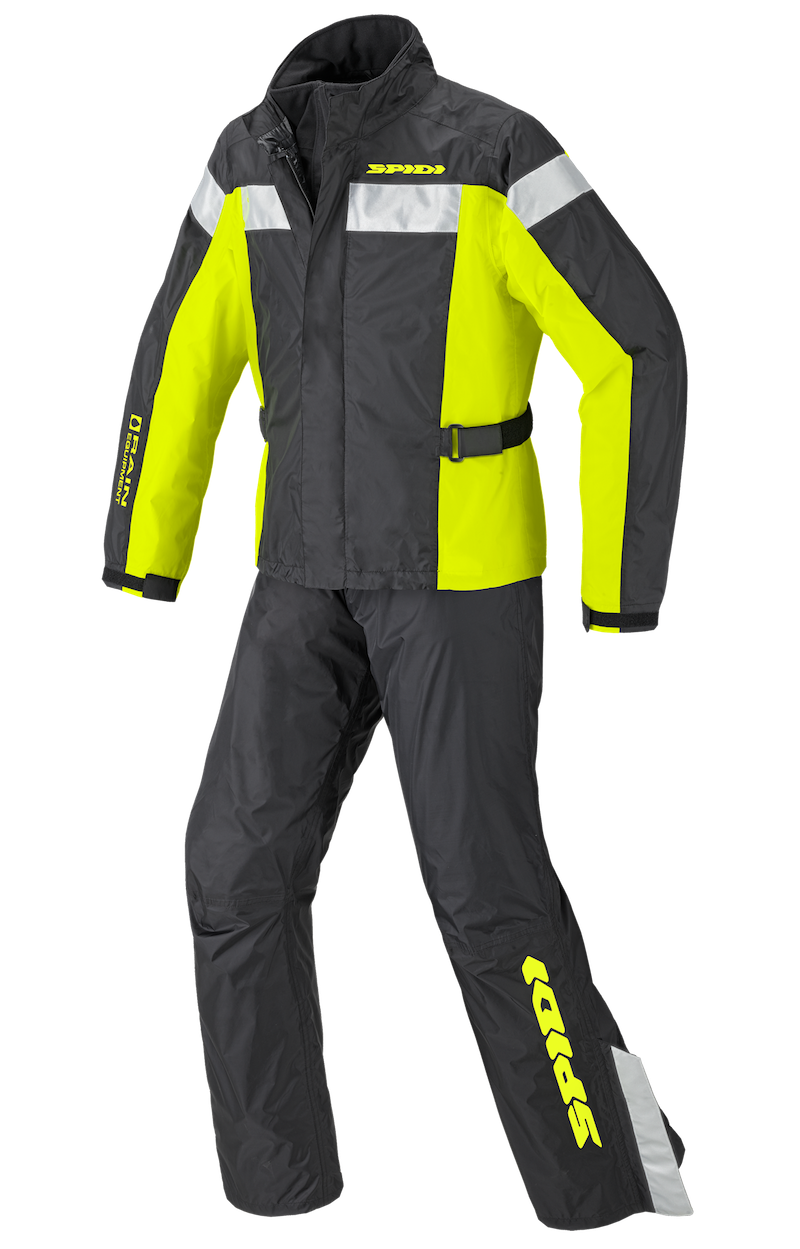 Cuffs, ankles and collar
There's a high chance it will already be raining when you decide to pull over to the side of the road and put your waterproofs on. This means good rain gear should be quick and easy to get on and off. You'll want to be able to carry out the task with minimal hassle or fuss, so elastic and adjustable cuffs and ankles will help.
Make sure you can get the trousers on over your motorcycle boots, or you'll find yourself hopping at the side of the road with one boot off trying not to get a sock wet. It's also good to be able to put your waterproofs on over your gloves.
When it comes to a collar, ensure it reaches your motorcycle helmet so you don't have water rolling down your back as you ride.
Zippers and seams
If you're getting wet wearing waterproof gear, chances are the rain has seeped through a zip or seam. Any zips should be covered with a substantial storm flap and ideally be water resistant. Seams should be taped so you know they will be waterproof.
It can be infuriating trying to work fiddly zippers while wearing motorcycle gloves, so make sure your waterproofs have big zippers that are easy to use. Taking your gloves off while it's raining to work an obstinate zipper not only gets your hands wet, it also makes your gloves soggy on the inside when you put them back on.

Pockets
Fumbling for your wallet at a toll booth while drivers impatiently honk their horns behind makes you realise how important easily accessible pockets are to a motorcyclist. Your waterproofs are no different, and while we wouldn't advise keeping electrical equipment such as phone in your waterproof, a credit card will be fine.
Reflective material
You're likely to be wearing your waterproof gear in poor conditions with reduced visibility and increased stopping distances. Being seen by other motorists is vital in these circumstances so make sure you have some form of reflective material on your waterproofs. If you don't like the head-to-toe hi-vis look, some reflective patches or piping will do the job.

Breathability
We wouldn't advise getting hung up on paying out big bucks for an item just because a manufacturer makes overzealous claims about breathability. The reality of breathable clothing is it doesn't actually breath that much in the conditions you're likely to use it in. You're better off ensuring your waterproofs have well placed vents to cool you down which can be sealed when needed.
Storage
Space is tight on a motorbike so having a handy stuff bag to store your waterproofs in is helpful. If you don't regularly use luggage on your bike, make sure your new waterproofs aren't so large you struggle to find somewhere to put them when you haven't got them on.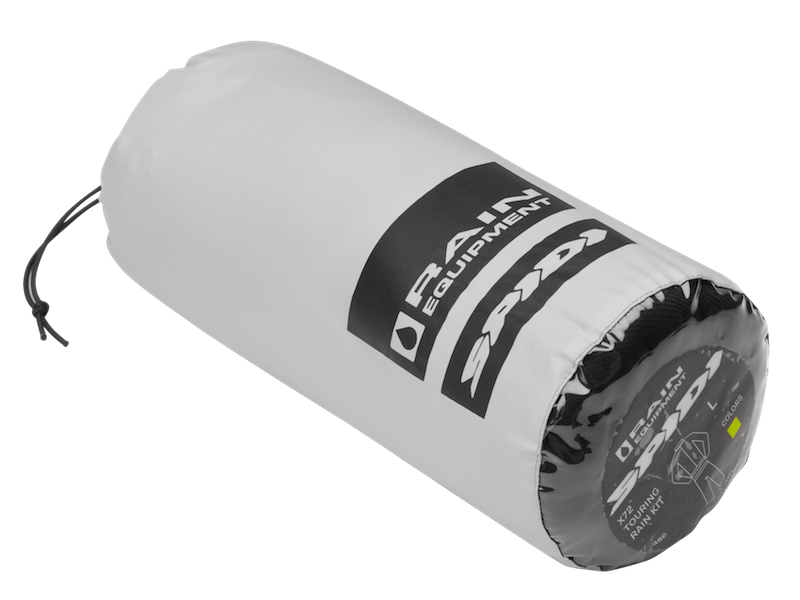 XLmoto
Motorcycle waterproofs need to be quick and easy to put on, convenient to store and do the job of keeping you dry when the heavens open.
Before making a purchase, be sure to think about the type of riding you do. If you limit your wet miles to summer showers, there's no point in splashing out on a watertight rain suit designed to keep you dry in a monsoon. However, if you spend hours slogging up and down the motorway in all weathers, you'll be all too pleased to have that extra layer of protection keeping you warm and dry in the saddle.
Head over to XLmoto.com for a huge selection of motorcycle waterproofs including jackets, trousers and rain suits to suit any budget.