Here at ABR we take our gear pretty seriously so we're always making sure we know about the best of the best. Never is that more important than with adventure boots. They need to offer good grip on all terrain, in all conditions and they're a vital part of kit to ensure you have the best ride possible. But there are so many options out there in so many different price brackets, so which ones should you go for?
When it comes to buying a motorcycle boot, the first thing you should consider is the fit. The quality of components used, the amount of protection provided, even the amount of grip the sole gives, are all unimportant if you've bought a pair of boots that don't fit the shape of your foot right.
Unfortunately, there's not much consistency with manufacturers boot sizing and so you'll find that a size 7 made in Germany (where feet are typically wider) will be completely different to a size 7 made in Italy (where they're usually narrower). For this reason, when buying any boots we advise that you take a trip to your local bike shop where you'll be able to try on the boots you like before you buy them, be it in the store or online.
With that in mind, here are our top 7 adventure boots.
7. W2 4 Dirt Adventure Boots – £159.99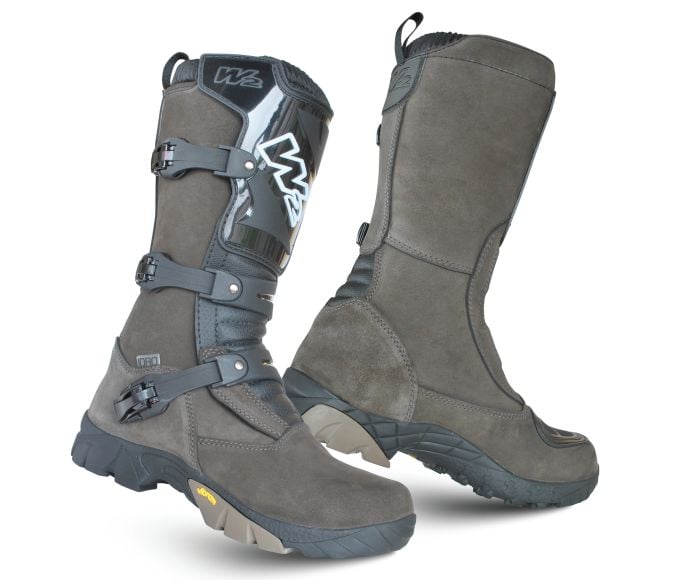 If you're in the market for a full-height adventure-style boot and your budget is limited then you may as well stop now and go and buy yourself a pair of W2 4 Dirt Adventure boots. In short, these boots are well constructed, durable, comfortable, look the part and are great value for money.
From the ground up there's a tried and trusted Vibram sole unit. The tread pattern and compound is not the company's top mud-plugger but it is good enough to keep you and your bike upright should you need a dab, paddle or push on wet, slippy ground. The high degree forward flex means these boots defy their looks and are comfy for extended use and walks.
The upper is constructed of 3mm thick suede and is secured around the foot and lower leg via three motocross-style quick-release adjustable buckles and a small Velcro tab at the top. Should they break or wear out the buckles are easily replaceable, which we like. The shin is protected by injection moulded plastic protectors and you get a high-wear gear change patch. When measured against the far more expensive Alpinestars Toucan the protection is inferior but good enough for us to place our trust in.
Protection from the elements is via a waterproof, windproof, breathable membrane the name of which is new to us but we've found it to be as effective as higher priced 'tex' brands on test. I'll finish where I started and highlight that at this price the W2s are a recommended buy.
In a line: Excellent value-for-money adventure-style boots.
Comfort: 8
Protection: 8
On road: 7
Off road: 8
Value for money: 9
Overall: 8
6. Falco 411 Mixto – £169.99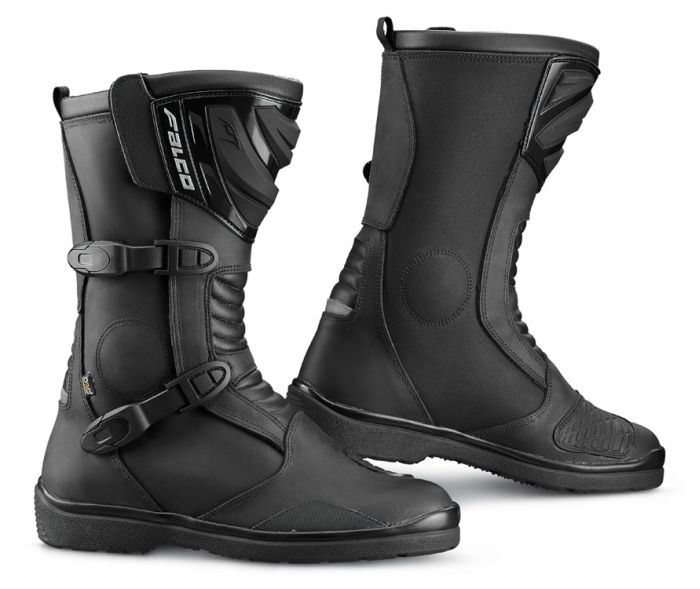 I was lucky enough to wear the Falco 411 Mixto when I rode over to Germany in May, covering some 1,200 miles in mostly heavy rain. As touring boots go, these Italian made numbers were excellent. Comfortable both on and off the bike over extensive periods of time (16+ hours) and genuinely waterproof even when being barraged with the wet stuff day after day.
This is down to the use of a High-Tex membrane which comes up to the top of the second buckle on the boots. It's waterproof and plenty high enough for any puddles you're likely to encounter outside of river crossings.
The outer of the boot tends to wet out quite quickly meaning that the leather will saturate and get cold quickly when it's raining. For winter touring I'd definitely recommend adding some heated insoles and some thick, warm socks as they can get quite cold.
The sole is excellent on-road, providing plenty of grip and performing well enough on easy gravel tracks – even in the wet.
Where the Mixtos come into their own is in the comfort department. The fit is spot on for the size and the inner lining is soft and it feels great.
There's enough flex in the boots to make them comfortable for excursions around the town but there's still enough support under the arch to allow for standing on the pegs. Protection is provided through D3O armour inserts in the ankles, stiffened toe boxes and heel cups and a plastic shin guard.
In a line: Comfort is the name of the game here, I can see myself wearing these for a long time.
Comfort: 9
Protection: 7
On road: 9
Off road: 7
Value for money: 8
Overall: 8
5. BMW Gravel – £255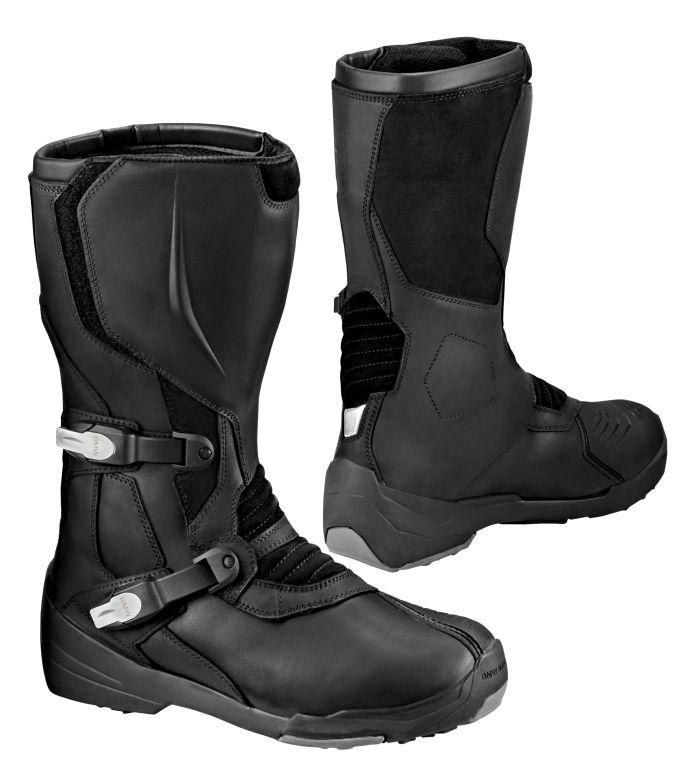 The BMW Gravel takes over from its predecessor the Santiago and it features a few updates to make it stand out as a brilliant crossover touring/enduro boot. As well as slightly modifying the appearance of the boots BMW has changed the sole unit, got rid of the metal toe caps in favour of a rubber bumper and ditched the elasticised closure at the entry to the boot for a more rigid, supportive design.
Personally, I really like the new look of the boot and although it's not particularly flashy it does have an understated aesthetic and classy appeal to it. We don't buy boots just because they look good though, so how do the BMW Gravels perform? Very well actually. The boots are immensely comfortable straight out of the box and there's a seemingly perfect amount of stiffness and support provided by the midsole and the tough upper.
The two aluminium buckles are the same ones that you'll find on the Santiagos and we've not had any problems with them over the years of wearing them, though they do seem to scuff a little too easy for our liking.
The new sole offers great grip on road and it'll serve you well on your drier green lanes. The boots feature a top quality Gore-Tex lining and your feet won't be getting wet in these (unless, of course water comes over the top).
The BMW Gravel is a worthy successor to the Santiago boot, it's very well made, looks beautiful, is incredibly comfortable, excellent on road and acceptable off-road. It comes highly recommended by ABR.
In a line: Superb comfort from day 1 – excellent touring boots.
Comfort: 9
Protection: 8
On road: 9
Off road: 7
Value for money: 8
Overall: 8
4. TCX X-Desert GTX – £279.99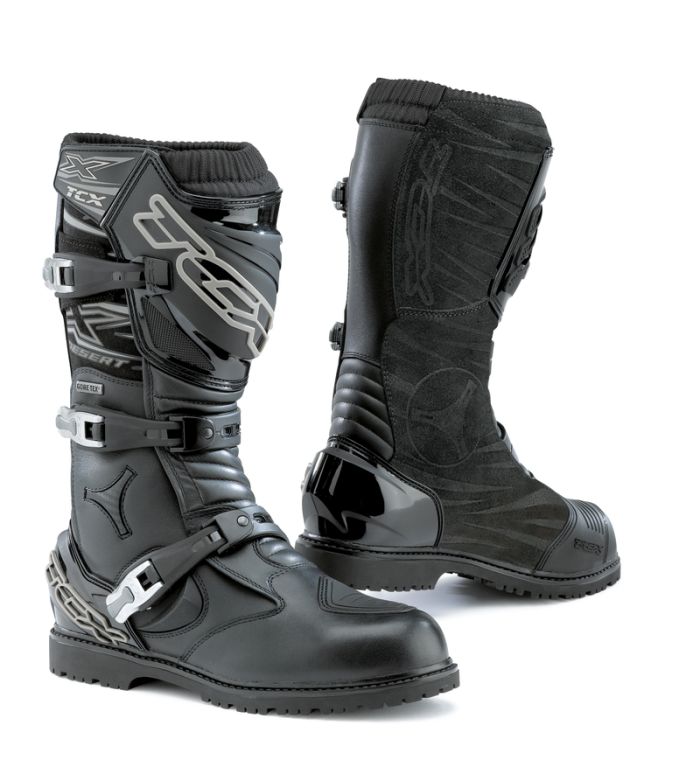 The TCX X-Deserts have your typical beefed up adventure look to them and they feature a top quality Gore-Tex membrane for protection from the wet stuff. A number of reinforced and padded areas protect you from the hard stuff.
From the bottom up these boots make use of an enduro style sole which has been designed to offer grip on and off-road, particularly in wet conditions and it does its job perfectly. The upper is made from quality full-grain leather which has been treated with a durable water repellent to prevent it from absorbing water and wetting out.
The adjustable aluminium buckles are strong and durable and there's ample protection throughout the boot in the form of PU inserts on the ankles, a reinforced heel cup and toe box, a PU shift pad and a PU shin plate.
In use, the boots feel a little stiff and clumsy but this feeling goes away after you wear them in a bit. After a few uses they'll become incredibly comfortable. While the Gore-Tex membrane provides protection from rain and snow it can make the boot run a bit warm in hot weather, something to be mindful of if you're planning a summer tour.
In all the TCX X-Desert GTX boots are brilliant adventure-style boots and if you're against shelling out over £300 for a pair of Sidis or Alpinestars then you certainly won't be disappointed with these.
In a line: A premium product at a premium price
Comfort: 8
Protection: 8
On road: 8
Off road: 9
Value for money: 8
Overall: 8
3. Sidi Adventure Gore – £314.99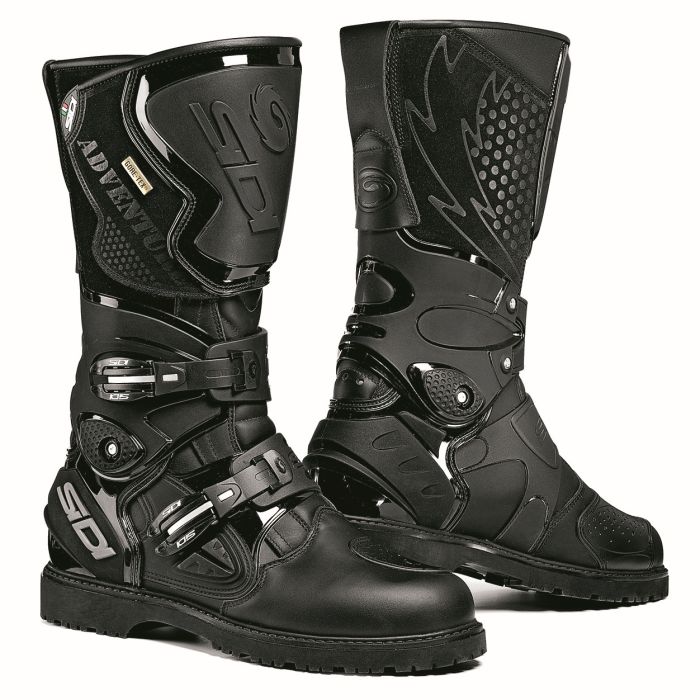 The Sidi Adventure Gore boots are, in our opinion, one of the best pairs of boots when it comes to looking after your feet on a motorcycle journey. They look fantastic, come with great features and offer all day-long comfort.
If I have a complaint it's that the soft rubber compound used on the sole wears out far too fast. But if you want a superb level of grip both on and off-road that's the compromise you're going to have to make. From the ground up the sole is almost an exact copy of the top-spec Vibram units found on up-market hiking and climbing boots, which means great grip on tarmac and good traction off-road. The tread is self-cleaning so it really is a shame it wears out so quickly.
The midsole is spot on in providing good fore and aft flex for all-day comfort and enough torsional stability for a good level of underfoot support and protection. In short, the perfect compromise between the comfort and protection.
The upper is also well made, with a combination of quality split-grain leather and thermoplastic mouldings in high-impact areas such as the heel, shin and ankle. The boots are secured using twin motocross-style clasps – with no-fuss adjustment and slick operation – and a large Velcro adjustment tab at the calf. The fit is excellent if you've a standard size foot and lower leg proportions, though wide feet and thick calves may unfortunately struggle.
The boots are fully waterproof thanks for a Gore-Tex liner and have managed to keep my feet dry on river crossings.
In a line: One of the best adventure boots on the market. They offer it all.
Comfort: 9
Protection: 9
On road: 8
Off road: 9
Value for money: 8
Overall: 9
2. Alpinestars Toucan GTX – £349.99
For foot protection and support, with the exception of the Sidi Adventure Gore, there are no other pairs of boots in this review that match up to the Alpinestars Toucan GTX. These are like fortresses for your feet and if you're looking for something that will offer your foot, ankle and lower leg as much protection as possible, all while being comfortable to wear then you can do no wrong in checking out the Toucans.
While the Toucans don't compete with the Daytonas or the BMW Gravels when it comes to comfort, for a boot that's focus is so clearly on protecting the foot from twists, bumps and impacts from debris they're surprisingly comfortable. They do run a little warm thanks to the high amount of armour and the Gore-Tex lining which both end up insulating the foot, but there are some nicely placed vents towards the lower end of the boot which offer a small amount of ventilation to stop the boots from becoming real foot furnaces.
The sole of the boot is perfect for off-road riding with deep cut lugs making the Toucan perform especially well on wet, muddy trails. The arch of the boot has also been reinforced to make standing on the pegs comfortable – a great touch. While the focus is more off-road than on they still perform well on tarmac and although they may seem a little clumsy at first, after a few rides wearing them in they will become more forgiving and changing gear and brake control will be easier.
In terms of quality these boots are excellent. From the neat stitching to the bombproof buckles, the top-of-the-range Gore-Tex lining to the moulded plastic protection panels, everything feels well crafted and like it's built to last.
It was very hard to choose between the Alpinestars Toucan and the Sidi Adventure Gore for the ABR Best in Test accolade. They're both superb adventure boots and at the end of the day your choice will probably come down to which one fits you best but I found that the Toucans offered slightly more protection and were more comfortable.
In a line: Fortresses for your feet, brilliant adventure boots.
Comfort: 9
Protection: 10
On road: 8
Off road: 9
Value for money: 8
Overall: 9
1. Daytona Trans Open GTX – £419.99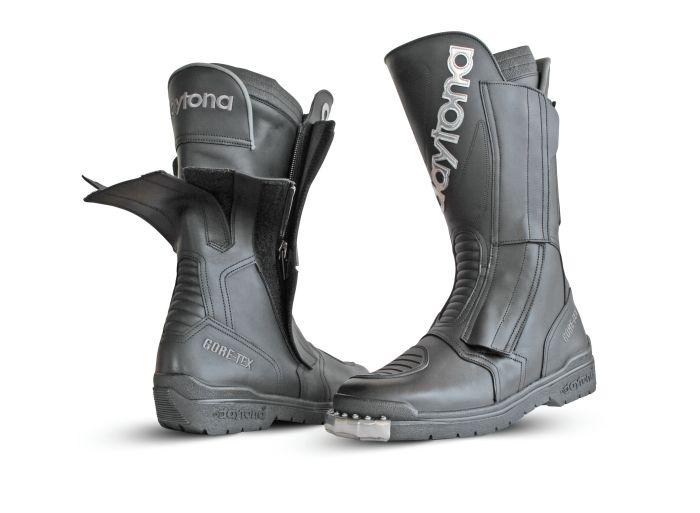 The Trans Open GTX is a full leather enduro-style touring boot with a Gore-Tex membrane and for its size, it's surprisingly light-weight and supple. On closer inspection of the boots it's hard not to appreciate the well thought out design and the quality of all of the components that come together to make a boot that not only works perfectly, but looks like a work of art.
The upper is made from top quality Italian leather while the non-slip enduro soles are grippy in dry and wet conditions and they feature metal toe bumpers to provide protection in this high wear area. The absence of buckles allows the boot to fit effortlessly under your trousers and the adjustable calf region means you'll get a comfortable fit no matter how chunky or thin your legs are.
Slipping your feet into these boots is like prodding your toes into heaven, the lining is incredibly soft and the comfort provided is fantastic. Something to be aware of is that the sizing of Daytona boots is quite large and I had to go down a size for mine to fit perfectly.
When it comes to motorcycle boots you really can't go wrong by buying Daytona. They're still manufactured in Germany and the Trans Open GTX is a testament to the skills of the boot makers. It's beautiful to look at and supremely comfortable to wear. Yes they are expensive, but if you buy these they'll last you a lifetime and they perform excellently when you're in the saddle.
In a line: So, so comfortable. The Trans Open GTXs are fantastic boots. Despite the price, these have to be best in test.
Comfort: 10
Protection: 8
On road: 9
Off road: 7
Value for money: 9
Overall: 9
What's your favourite pair of boots? Do you disagree with our results? Let us know in the comments or on Facebook!