For British adventure bikers looking to get a taste of riding in the rough stuff, there's nothing better than finding a few greenlanes to play on at the weekend.
An entirely legal pastime, greenlaning is the best way to get stuck into some trail riding on the UK's network of byways and unsealed roads. With a range of lanes that cater for all abilities, from complete novices up to seasoned pros, there's something for every adventure biker to enjoy.
They're all fun to ride, but a select few are truly spectacular. They tend to be found in some of England and Wales' most awe-inspiring landscapes (the law is different, and a lot tougher, on trail riding in Scotland) and offer a chance to ride through the best of the British countryside while enjoying views that will have you stopping regularly to snap quick photos.
So, to highlight just five of our favourite greenlanes that offer stunning views alongside, excellent trail riding, we've teamed up with tyre manufacturer Mitas, a company that produces a range of tyres designed to suit riding on and off-road on an adventure bike.
To find out more information about each lane, including the route and difficulty rating, flick to the greenlanes section of the relevant issue of ABR (which we've highlighted below), or head online to the Digital Library to discover more than 100 greenlanes featuring turn-by-turn directions, maps, difficulty levels, and that all-important wow factor.
So, without any further ado, let's take a look at five of our favourite lanes that offer cracking riding, the best views, and the promise of a memory card filled with photos at the end of the day.
Botallack Mine, Cornwall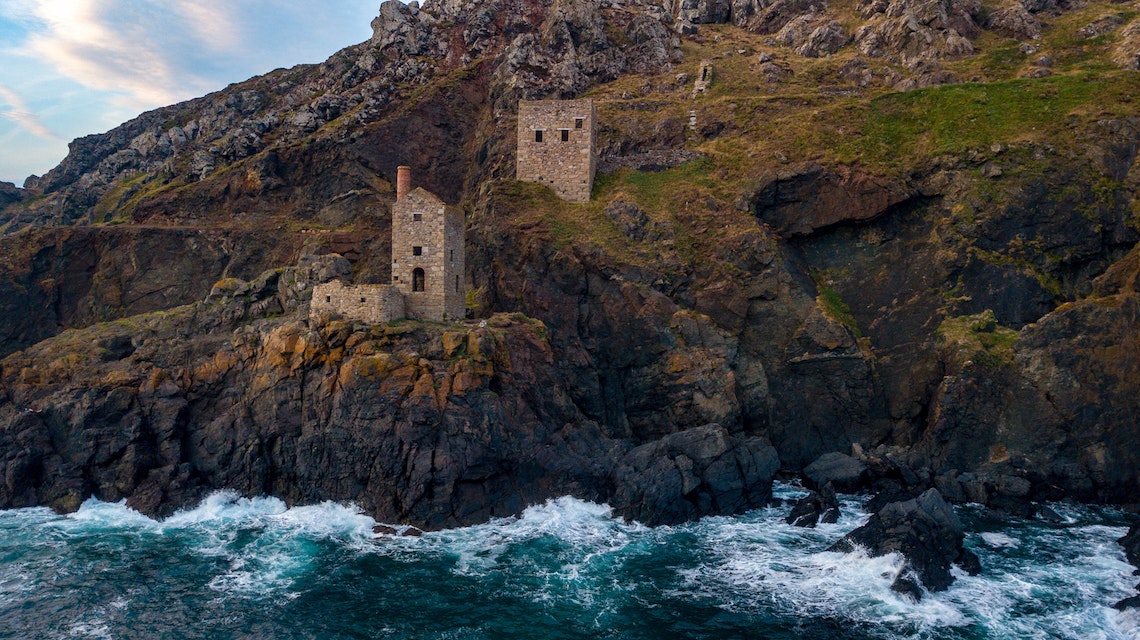 Find out more in: Issue 59 of ABR
Our first lane takes us meandering around the abandoned Botallack tin mines, just a stone's throw from St Just in Cornwall. It's hard to believe this four-and-a-half mile trail is permissible to ride as it carries you high above the crashing waves of the Atlantic Ocean, after all most coastal paths in the UK are reserved for walkers and hikers.
But, legal it is, and it's a worthy inclusion in any summer tour that visits the nearby attraction of Lands End.
It's not a technical trail by any stretch of the imagination. Instead it's simply one to savour as you ride its length. The lane is also suitable to tackle on larger adventure bikes on road-biased adventure tyres in the dry, as the hard-compacted road surface offers plenty of grip.
This means novice trail riders can enjoy the greenlane with confidence that they won't encounter too many tricky sections that will force them to turn around.
Cadair Idris, North Wales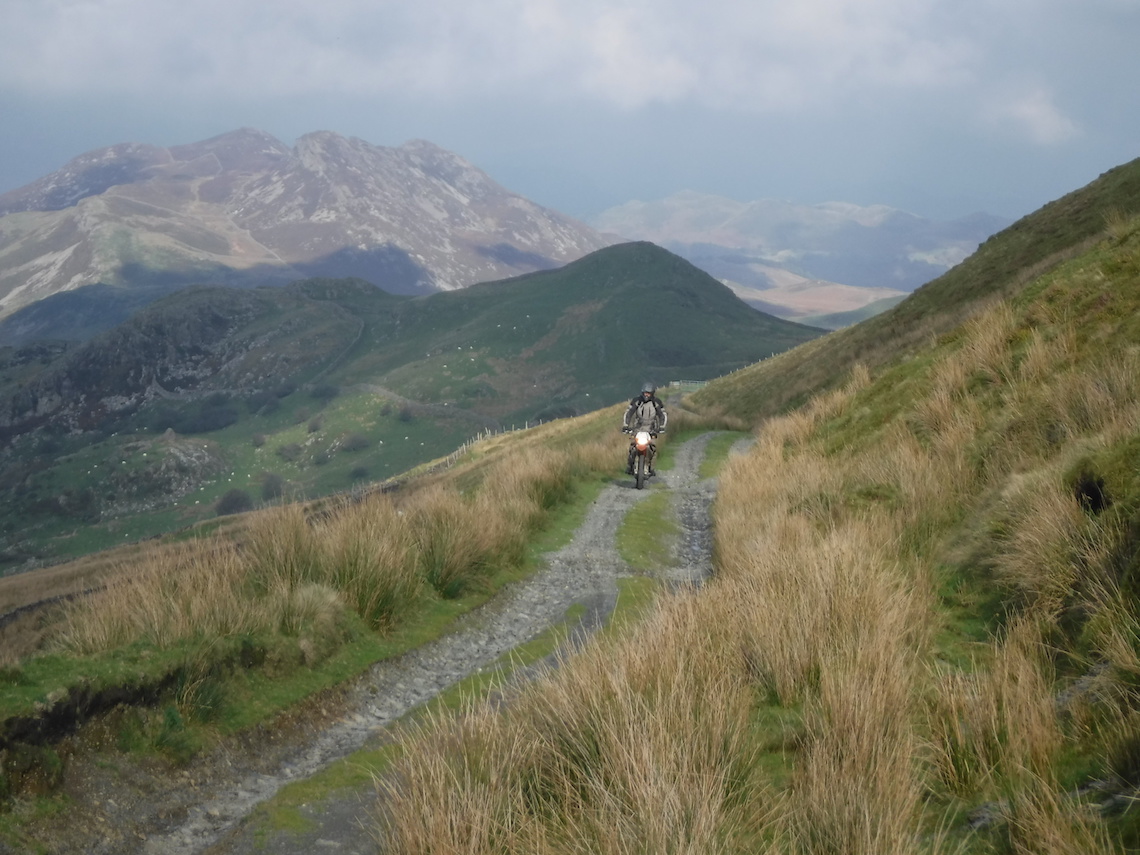 Find out more in: Issue 51 of ABR
Topping out at over 400m above sea level, and offering spectacular views of the surrounding mountains, this seven-mile long trail will feel like a much longer ride once you've stopped several times along its length for photographs.
It's a brilliant route from the moment you hit the magnificent ribbon of tarmac running up to the lane, until you rejoin the road on the other side seven miles later. Along the way, you'll contend with loose stones, plenty of puddles, and steep drop offs that are unprotected by walls or fences, ensuring the quality of riding matches the views on offer.
Once again, this is a greenlane that can be ridden on larger adventure bikes. The majority of the trail is made up of stony sections and shallow puddles that offer plenty of grip, with the trickiest section complicated by some shallow stony ruts and encroaching grass.
However, we'd recommend tackling it on some chunky knobbly tyres, particularly if there's been rain before you make your trip.
Happy Valley, Wales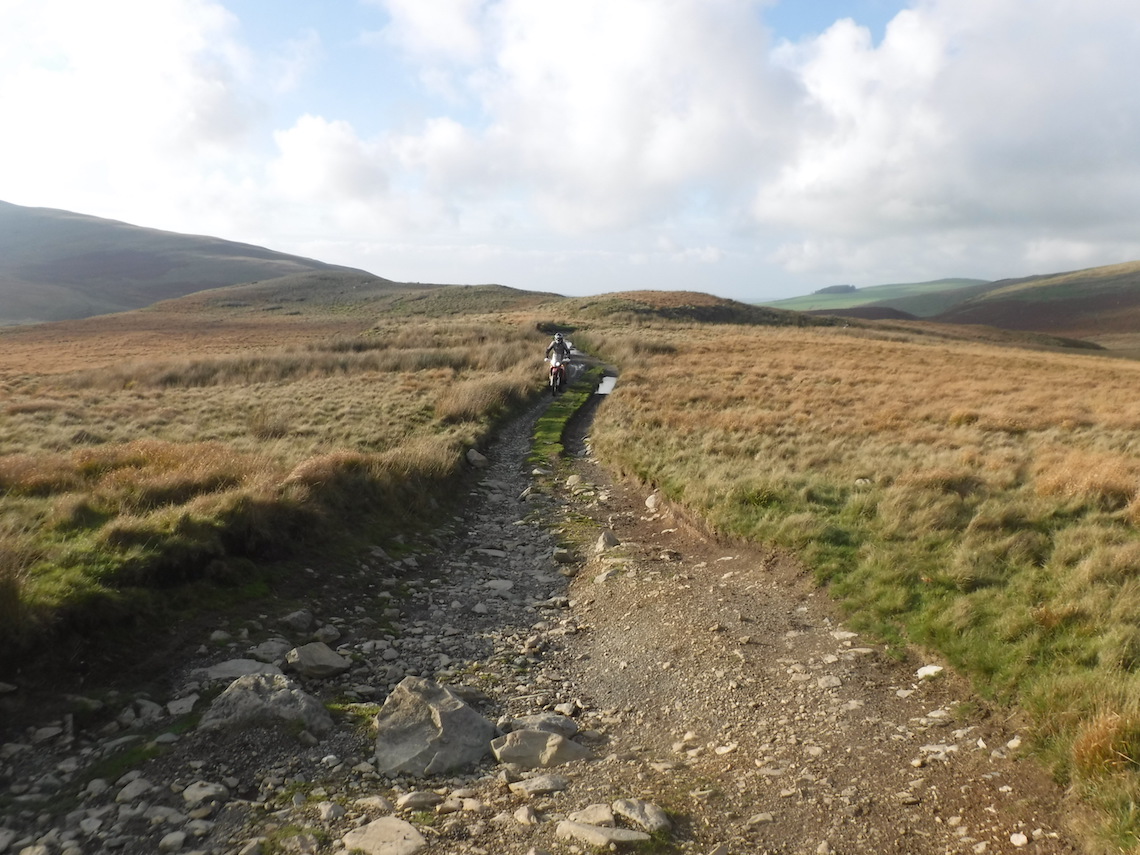 Find out more in: Issue 52 of ABR
Located close to the Cadair Idris, the lane through Happy Valley is another to add to your list if you're planning a day or weekend ride through north-west Wales.
Slightly more technical than the previous lane, there are plenty of tricky sections that may prove difficult for novice trail riders or those riding larger bikes without an appropriate set of knobbly hoops.
But, if you feel confident enough to tackle the lane will be blessed with stunning views, plenty of climbs and descents, and a challenging ride that will see you bouncing over large rocks (as seen above), travelling along ruts, and splashing through knee-deep puddles, and a small stream. This is one guaranteed to leave you grinning from ear to ear.
Slaley Forest, Northumberland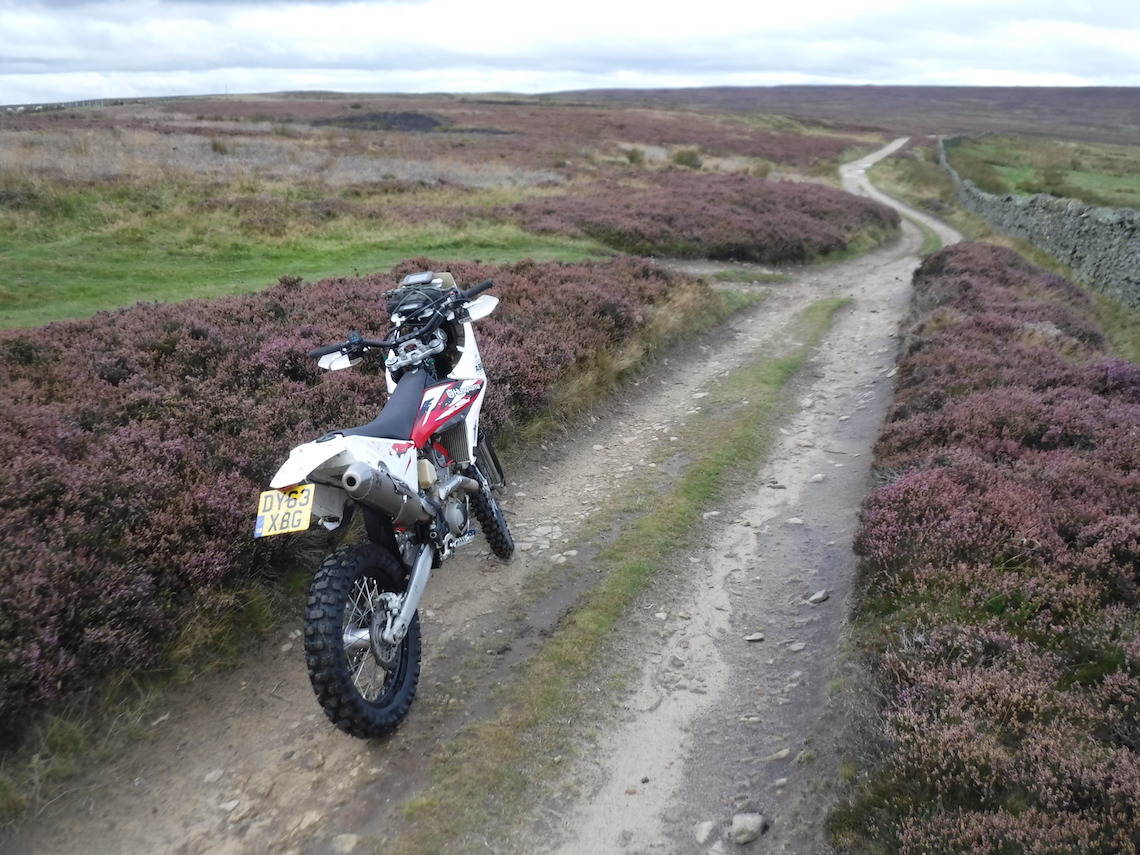 Find out more in: Issue 45 of ABR
The beauty of the trail through Slaley Forest is the sheer variety of landscapes and road surfaces that you'll ride through, and on, while tackling the near-10-mile long lane. The trail will take you through barren moorland into a dense forest, which forms leafy tunnels around muddy logging tracks, all set in the sparsely-populated Blanchand Moor.
Along the way you'll have rutted tracks, compact dirt roads, and deep puddles to contend with. The difficulty of the trail is also dependent on the weather. Heavy rainfall can turn straightforward sections into challenging mud pits, and a number of seasonal Temporary Restriction Orders (TROs) are in place protect the toughest sections in the winter.
If you're planning to ride Slaley Forest, go equipped with a good set of knobbly biased tyres, a clear idea of where the route will take you, and be prepared to enjoy a challenging and truly adventurous ride.
Old Coach Road, Lake District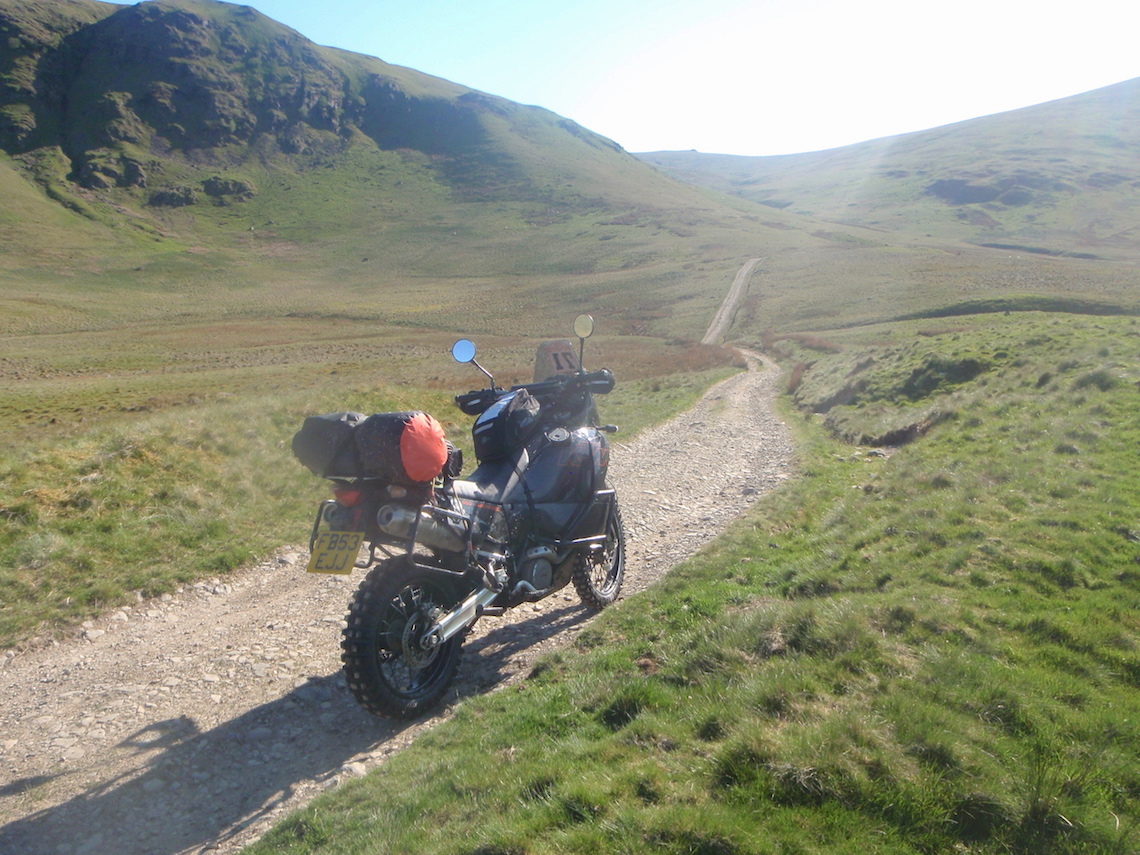 Find out more in: Issue 13 of ABR
The longest trail in the Lake District, the Old Coach Road is a classic lane that stretches through a particularly remote part of the national park for over five miles.
Topping out at a maximum height of 437m, this greenlane will take you high above the surrounding hills that prove so popular with hikers and walkers, and is guaranteed to offer the type of views that will have you pulling over regularly to reach for your camera.
The route is suitable for larger adventure bikes and it's been well maintained, with a lot of work carried out by the Trail Riders Fellowship (TRF). The majority of the trail is made up of a hard-compacted base with some loose rocks and a few deep puddles to splash through.
However, before you head off to ride the Old Coach Road, it's worth noting that it's popular with walkers, mountain bikers, and other trail riders, so take the lane at a relaxed pace and be prepared to stop or slow down suddenly while you're enjoying those spectacular vistas.
The Old Coach Road also features as part of the ABR Wainwright Coast-to-Coast ride, following in the steps of the famous through-hiker across northern England. Find out more here.
Mitas Adventure Tyres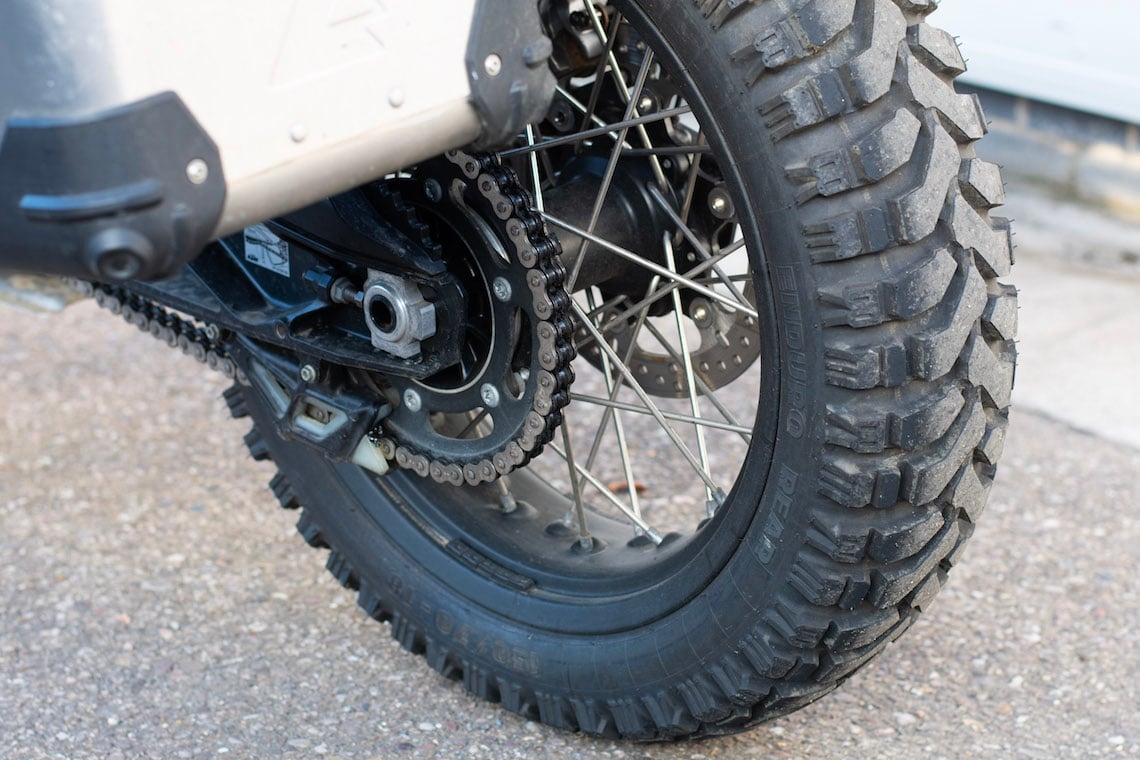 When you turn off the tarmac and ride on greenlanes, it's important to travel with a suitable set of tyres fitted to your bike. A good set of chunky knobblies provide plenty of grip in loose conditions like mud and gravel, keeping you upright when the going gets tough.
That's why we're bringing you this guide alongside tyre manufacturer Mitas, which produces a wide range of tyres perfectly suited to the on- and off-road demands of adventure biking.
You can view Mitas' full adventure range online here, but I'd personally recommend the Mitas E-07s, a 50% on-road and 50% off-road focussed tyre that I fitted to my Honda Africa Twin Adventure Sports last year and spent 4,000 happy miles riding with.
Discover the full details of all of these greenlanes
Poring over OS maps to figure out where you can ride greenlanes legally can be a dark art and enough to put many riders off altogether. That's why the ABR team has put in the hard yards detailing over 100 lanes, including their exact locations, a difficulty rating, and a wow factor, to help you set off on your next adventure at the drop of a hat.
There's bound to be one just a stone's throw from your doorstep, and you can read them all online by signing up to the ABR Digital Library. This gives you access to the latest issue of ABR, as well as 61 back issues, all accessible on your phone, tablet or computer.
Sign up HERE and bag yourself a decade's worth of adventure bike riding inspiration and the full details on all five of the greenlanes detailed above.